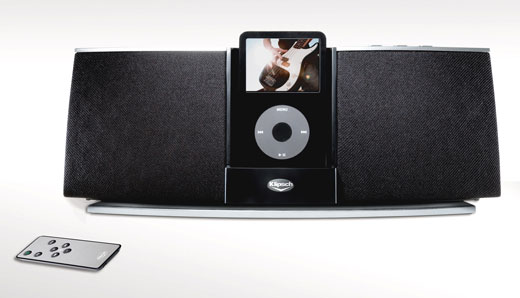 As of early 2008, Klipsch offers two single-chassis iPod speaker systems: the RoomGroove, which offers compatibility with the company's wireless "KlipschCast" feature, and the iGroove SXT, its no-frills entry-level model. That said, the relatively affordable iGroove SXT doesn't look or feel cut-rate. As soon as we put our iPod into the dock and the music started playing, we appreciated the little system's relatively full sound and keep-it-simple approach.
The top edge of the front panel has just three buttons: volume up, volume down and power. The rest of the front is covered with a nonremovable black cloth grille, and the iPod dock is centered on the lower edge. It's a rather handsome design. The iGroove SXT measures a compact 4.75 inches tall by 12 inches wide by 4.6 inches deep and weighs a mere 4 pounds, but the plastic cabinet feels sturdy and solid. Like virtually all iPod speakers, the iGroove SXT recharges nearly any iPod with the standard 30-pin connection when the player is docked, and it comes with a set of tray adaptors so players of varying sizes will fit snugly. The iGroove SXT requires AC power, so it's not truly portable, but it's small enough to be moved easily from room to room.
Klipsch is known for its "horn" loaded stereo and home theater speakers, and it's applied that technology to the iGroove SXT's 0.75-inch tweeter to increase its efficiency, dynamic range and minimize floor and tabletop reflections that would adversely affect its sound. Klipsch is the only iPod speaker manufacturer we know of to incorporate horn tweeters. The iGroove SXT also has a pair of 2.5-inch woofers (the sides of the cabinet have slotted ports to enhance bass response). As for the stereo system's power rating, it isn't specified, other than to say it's a Class D (digital) amplifier.