Around the back of the unit you'll find an S-Video output for displaying your iPod videos on a TV and an auxiliary (line-in) input to hook up other audio devices–anything with a headphone or line-out jack will work. However, we should point out that the video output is only compatible with the earlier generation of video iPods–not the iPhone, iPod Touch, iPod Classic, or video-enabled Nanos.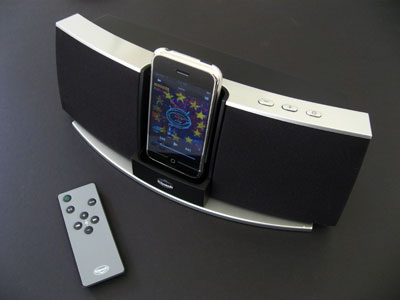 The iGroove SXT comes with a credit-card-style remote that controls just volume, play/pause, and track skip forward/back. Accessing menu functions is a hands-on iPod operation, so don't expect to navigate the player's menu system from your easy chair.
Considering its small size, we didn't expect the iGroove SXT to rock our world, but the R.E.M. Live CD put out so much bass we could feel it vibrating the table in our listening room. Michael Stipe's vocals were clear, and the drums sounded powerful. The iGroove SXT sounded best when we sat 2 to 4 feet away; as we moved further away the sound was less impressive. Stereo separation is barely noticeable at any distance, but that's true of most iPod speakers. The iGroove SXT can play fairly loud without obvious distress.
To finish up our testing, we compared the iGroove SXT to the Logitech Pure-Fi Elite. The Logitech is larger, with larger woofers and tweeters, and has a built-in AM/FM tuner and digital clock. No surprise: the Logitech sounded bigger, with deeper, tighter bass and superior treble detail. Even so, we appreciated the iGroove SXT's richer/warmer tonal balance, and for some buyers the Klipsch's more compact size will be an asset. Street prices are about the same for both iPod speakers.
The good:
Compact iPod speaker; attractive design; good sound; relatively affordable; S-Video output for older video-enabled iPods.
The bad:
No radio, clock, or alarm; video output not compatible with iPhone and current generation of video iPods; remote has limited functionality.
The bottom line:
Klipsch's entry-level iGroove SXT iPod speaker system may be short on features, but it delivers a big, muscular sound considering its compact size.