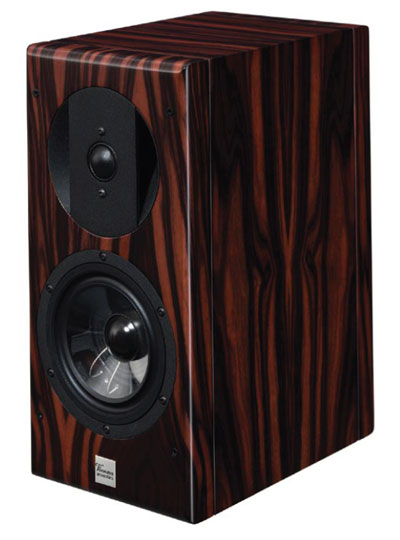 Reviewing high-end audio gear is a little like going out on a blind date. Sometimes you don't have a lot of information to go on, but you've still got to be prepared to make that leap of faith. In the case of Vienna Acoustics loudspeakers, my only exposure to them has been in the sterile confines of trade shows. Frankly, I wasn't sure what I was in for when I unboxed the Haydn Grand compacts but, following my own advice, I kept an open mind.
I certainly liked what I saw. Here was a sumptuously built two-way compact in a cleverly realized bass-reflex enclosure. Rather than situating the port in back or extending cabinet height with a front vent, Vienna Acoustics has positioned its port in the forward-firing position directly behind the tweeter. The tweeter is essentially mounted in the throat of the port. Named an "airflow control wedge port," this configuration keeps enclosure size to a minimum, and is said to improve phase coherence.
It's also said to reduce port noise by 12dB at a mere fourteen inches tall, the Haydn Grand might only be the size of a humidor, but that doesn't make it any less of a feast for the discriminating eye. Fit and finish are exquisite. My pair was surfaced in optional rosewood veneer, flawlessly applied on every side;the thick 1.25″ front baffles were delicately radiussed. Vienna Acoustics' X3P cone material, used in the Haydn Grand's transparent mid/bass driver, is derived from VA's polypropylene-hybrid cone technology and combines TPX, a thermoplastic used in VA's XPP cones, with three polypropylene-based synthetics. The combination has been engineered to achieve very low mass with high damping and high rigidity. The transducer uses an inverted rubber surround to reduce cone-edge resonances. A hand-coated silk dome tweeter is assigned treble duty. The gold-silver alloy terminal wheels are another nice tactile touch. Even the grilles have a V-shaped phase diffuser to control dispersion.
The purpose-designed stands (manufactured in cooperation with U.S. importer Sumiko) not only support the Haydn Grands but are also perfect aesthetic complements to the speakers. To prevent a tipping incident, the single-post, heavyduty stands secure the speaker to the top plate with a pair of threaded knobs that screw into the bottom of the Haydn Grands-a superb blend of integration and function. Clearly the Haydn Grands were a tonic for the eyes-a good start-but did my date have the sonic spark that might imply a future together?