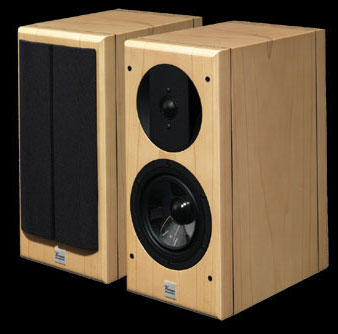 On occasion, I thought the tweeter asserted itself more than it needed to in the lower treble, but this was often highly recording-dependent. For example, I recently picked up a pair of discs of the Tchaikovsky Violin Concerto in D Major, one the classic Heifetz [Chicago, Reiner, RCA-XRCD] the other with Anne-Sophie Mutter [LSO, Previn, SACD] Interestingly the Heifetz-a fifty-yearold recording-sounded pretty much the same on the Haydns as it did on my reference speakers; yet the Mutter-an SACD recording-had a bit of mid-treble glitter and spotlighting that my neutral reference did not. This was not disagreeable per se, and easily acclimated to, but it was present and repeatable, nonetheless.
Note: With such a highly resolving loudspeaker scrimp on amplification at your peril. True, it's reasonably sensitive at 89dB, but the Haydn Grand is still a 4-ohm speaker and happiest with 100W+ integrated amps, like the 125Wpc Plinius 9100.
Frankly, you'd have to have a screw loose not to enjoy this speaker. Small, unimposing, but an aesthetic delight to behold and a sonic pleasure to experience, the Vienna Acoustics Haydn Grand is a giant killer of the old school. Love at first sight? Darn close, proving sometimes even a blind date can be a real eye-opener.
Specifications
Tweeter: 1″ Silk Dome
Bass/Midrange: 6″ X3P Transparent Cone
Bass System: Bass Reflex, Front Ported
Bass Function: Impulse Optimizing QB 3 (Quasi Butterworth)
Crossover Components: MKP capacitors, 1% tolerance, Air Coils 0.7% tolerance, Metal Film Resistors, 1% tolerance
inductance free
Crossover Function: 2-way, 6dB and 12dB Bessel
Impedance: 4 ohms
Frequency Response: 42Hz – 20kHz
Sensitivity: 89dB
Recommended Amplifier Power: 25 – 180 watts
Weight: 44 lbs per pair
Dimensions (W x H x D): 6.85 x 14.2 x 10.4 inches, 174 x 361 x 265 mm

Source: sumikoaudio.net, vienna-acoustics.com