Greater detail from your Blu-ray disc
By way of comparison, I compared the Skull and Crossbones menu sequence from Pirates of the Caribbean: Dead Man's Chest. In the lower background waves, a greater level of smooth and coherent detail is visible on the Panasonic when viewed alongside the same sequence played on a PS3.
This can largely be attributed to the brand's UniPhier video processing LSI, which incorporates both P4HD (Pixel Precision Progressive processing) picture processing (designed to handle all deinterlacing and scaling duties, and able to process more than 15 billion pixels per second) and a new PHL Reference Chroma Processor, derived from technology used at Panasonic's Hollywood-based authoring facility.
Thrilling audio
Audio performance is equally thrilling, but setup is complicated and there are caveats. The BD30 is compatible with both common (DD5.1/DTS) and hi-res audio formats.
Given that studios cannot seemingly agree on any coherent defacto audio system for Blu-ray (lossless PCM, Dolby TrueHD and DTS-HD MA all being used for A-list titles) this is significant.
The player must be configured via the sub-menu to squirt them out as a bitstream in order to deliver Dolby TrueHD or DTS-HD MA soundtracks. And you'll need a receiver with suitable decoders on board to handle these audio formats.Alternatively, you can output them as PCM, although this is derived from either the core/standard DTS mix or Dolby Digital 5.1 downmix – it isn't lossless.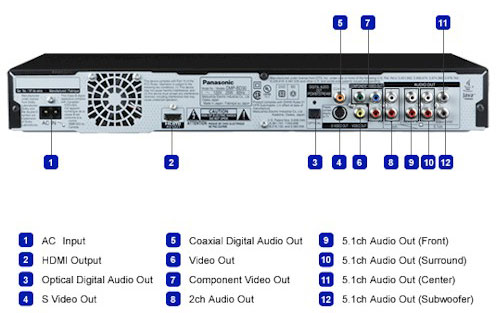 High definition PIP
There's also another catch; you can't have audio to the PIP sub-window if you want to stream an HD audio format. You can only listen to the Secondary Audio feed to the PIP Bonus View sub-menu if you select PCM as your audio output format of choice.
This is irritating, as it means cinephile's will end up watching the movie with one menu setting and then have to go back into the player's setup menus to engage the Secondary Audio mode if they want to enjoy a PIP feature!
I tested the two Panasonic BD30s (one American, the other European) with Resident Evil 3 and the US release of Sunshine; the player managed each Profile 1.1 sub-menu without problem.
Panasonic deal with Java
One aspect that separates top-flight BD players from lesser models is their ability to handle BD Java.
The good news is that this model is significantly faster than its predecessor and many other dedicated models on the market. This means shorter disc-loading times and more responsive menu navigation. The BD30 loads the Java-heavy Day After Tomorrow in approx 54 seconds.
Disc compatibility is extensive. The deck spins both BD-RE and BD-R recordable discs, plus RAM (only caddy-less discs), DVD-R/RW, DVD+R/+RW and DL discs, CD/CD-R/CD-RW, DivX-encoded videos and, of course, Blu-ray and DVD, locked to Region's B and 2 respectively.
It would have been nice to have seen DVD-Audio playback included but then you can't have everything.
Given that you'll need to retain a DVD-Audio disc spinner in your rack (or any other Panasonic DVD player/recorder) you can set the remote control code between one of three positions to avoid zapper conflicts.