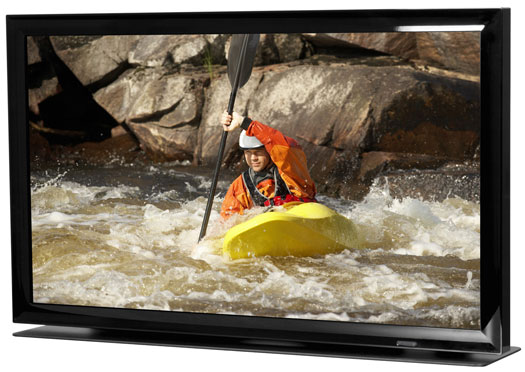 If you haven't heard of Planar before, don't worry; it's not one of those fly-by-night dodgy Far Eastern brands that turns out some cheap piece of tat and then disappears again as fast as it arrived. In fact, Planar is a very well established brand in the US, and now it's decided it wants to get itself known over in the UK too.
Regular readers may recall that the 42in PD420 is not the first Planar product we've reviewed. We've previously checked out and been very impressed by a couple of entry-level DLP projectors and one of the PD420's bigger siblings, the 47in PD470. But with its approachable £1,800 price tag and living room friendly dimensions, it somehow feels as if the 42in PD420 could really be the product that puts Planar on the UK consumer map.
That said, the PD420 isn't exactly designed for the mass market, for it ships with neither a built-in tuner – digital or analogue – or speakers included as standard. In other words, it's 'merely' a screen rather than a fully fledged TV.
The reason Planar has taken this rather unusual approach is that it has designed the PD420 to be sold through custom installation channels rather than your common and garden high street electrical superstores. And when you're talking about custom installations, you're invariably talking about being able to feed screens with high quality external video sources such as a Sky HD receiver and/or Blu-ray deck. So a built-in tuner for receiving the Freeview service just isn't necessary. Similarly, any professional AV installation worth its salt will have a separate audio system too, making speakers on the PD420 a complete waste of time and space.
So far, so hardcore AV. And this feeling merely grows when you clap eyes on the PD420's bodywork, which is designed to what's probably best described as an industrial standard. Its bezel is just a black rectangle, basically. But crucially for the set's premium aspirations, it's a black rectangle that happens to be made of diamond-polished, brushed aluminium and finished with five coats of highest-grade black lacquer topped off by one final automotive-grade clear coat. The screen itself is a cut above the norm too, featuring as it does a hard-coated, anti-glare surface. As I said before: hardcore.
The PD420's premium status does take a slight dent, though, with the fact that its connections only include two HDMIs, neither of which are built to the v1.3 specification. We guess the number of HDMIs can just about be excused again by the screen's custom install background, as a full installation may well use external source switching anyway, say through an AV receiver. But the lack of v1.3 spec definitely means the screen won't be compatible with sources (should any AV examples actually appear!) that carry the Deep Colour format.