Av123. Heard of them? Probably not. That's okay – not many have. They are one of a seemingly rare breed: A manufacturer of mid-to-high-end speakers who sells their stuff exclusively on the internet. If you've not heard of AV123.com, you may soon be a minority. They have a huge following amongst audiophiles and audio enthusiasts alike. They also sell amplifiers, turntables, cables, and other esoteric components that get audiophiles salivating.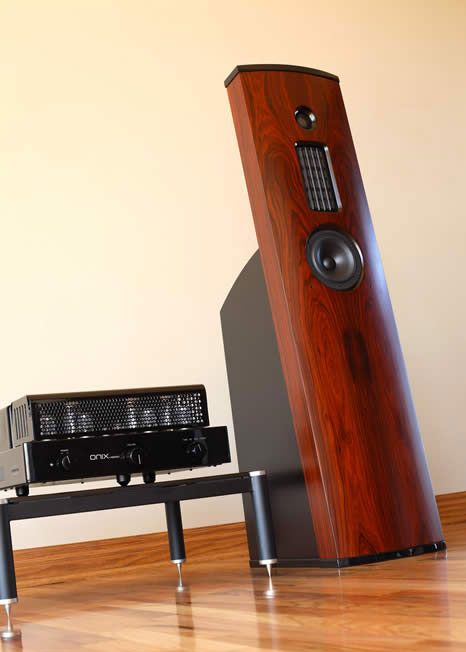 Founded and managed by Mark Schifter in 2000, Av123.com's promise is, "above all else, to provide the customer with 3 distinct advantages; service exceeding your highest expectations, products unlike anything you've seen or heard before, and value beyond all else". That's a pretty tall order to deliver on. But visiting the community section of their site you can hear from hundreds of customers who are raving about AV123's products. AV123 carries a broad range of home audio and home theater speakers. In fact you might become a little daunted as a newcomer to their site. But don't worry – you can pick up the phone and give them a call. They've got a great group of technically savvy audio gurus who can walk you through their various offerings.
Today we are taking a look at the company's Strata Mini Loudspeaker which use a combination of planar magnetic drivers, cone drivers as well as an integrated 8-inch subwoofer. Priced at $1995.00 USD per pair, only 50 of these speakers are being made each month.
Features and Design
The Strata Mini's are big. If you're into those little cube speakers, then stop reading right now and go visit your local Bose outlet, because the Strata Mini's aren't small. Believe it or not this is actually one of their mid-sized offerings. They have plenty of bigger speakers, and plenty of smaller ones too.
The speakers are finished in a pretty "South American Rosewood" with a satin sheen, and capped, at the top, with a glossy black "crown". The rear portion of the speaker that houses the subwoofer and amplifier is finished in a satin black, smooth vinyl material. The variation between finishes and colors seemed a little distracting to our eyes. We could have gone with one less color/finish component.