Strata MiniThe speaker cabinet has a slight tilt-back that phase-aligns the bass, mid, and tweeter drivers. It's debatable how much of a difference this makes in a casual living room listening environment. But this is a feature typically only found on extremely pricey speakers so we're not complaining. The driver array is also unique for this price point. A planar magnetic tweeter and midrange are in place to provide an airy, crisp, detailed tone that is extremely articulate at any volume level. Planar magnetic speakers are known for their high frequency output (higher than standard tweeters). But they lack low end response. So accompanying the array is a 5.25″ mid-bass driver that handles the lower mid bass spectrum before the powered 8″ sub takes over. The sub is powered by a built-in class A/B amp with 350 watts of power. It comes with the typical adjustment controls: Variable crossover, gain, and phase. The Strata's stated frequency response is 27Hz to 35KHz.
Setup and Use
Setup with these speakers is a bit more complicated than most because of the built-in active sub and the way AV123 designed it. On most powered tower speaker offerings, the speaker inputs are internally bridged over to the sub amp. But on the Strata's, that's not the case. The sub's amp is not directly connected to the main high level inputs on the speaker. AV123 says this gives you more freedom in that it gives you the ability to wire up your powered sub direct to your receiver or main amp, which may be preferred by some audiophiles. For those that just want the thing to work, there's a set of "jumper cables" included with the speakers to make the connection between the main speaker input and the sub amp inputs. But figuring out how to properly connect the jumper cables was a bear. So we referred to the owner's manual for help. Unfortunately the manual, filled with jargon and poor diagrams, didn't clear things up for us. We'd recommend instead jumping online to the AV123 site to get the nitty gritty on setup from other folks in their online forum, or just calling up an AV123 support representative.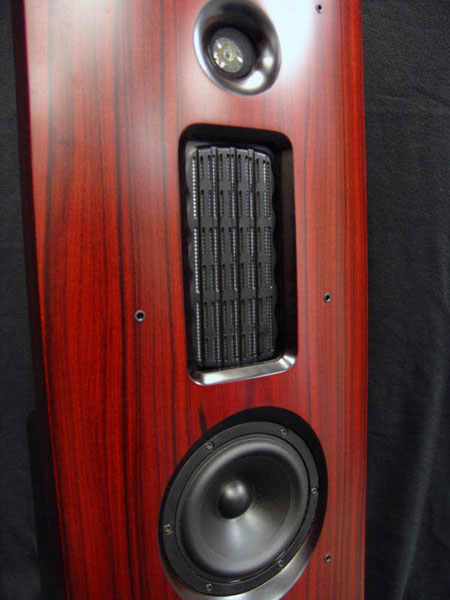 Besides the poor manual, another oversight (in our opinion) is that there's no auto on/off sensor on the sub amp. So when the sub amp is turned on, it stays on, even when you're not listening to anything. A negative point for energy conscious consumers, but not a big enough "turn off" for us considering the way these speakers sound.
The speakers were set up in a listening room that was about 10 x 15 with a 9 foot ceiling. They were powered with an Onkyo TX-SR797 receiver. Source material was played through both a Toshiba HD-A2 DVD player and Apple TV (connected to iTunes). Cobalt's Ultimate Speaker cables were used.
Listening
For starters we wanted to hear the planar magnetic array in action, so we took a listen to Patricia Barber's CD, Nightclub. The first track, Bye Bye Blackbird, has a dark tone with lots of space between the drums, bass, and piano. When Patricia enters with voice, we could clearly hear the off-kilter nuances she was using to create a ghostly, enchanting effect. Marc Johnson's acoustic bass playing really popped out as well, with plenty of low, droning, tones. We could hear all the nuances of his hand on the strings. Patricia's voice had just a bit of a dark veil over it – something in the low-midrange. It sounded pretty, but slightly artificial. We heard the same thing in the piano too. This tonal choice AV123 made warms things up nicely. But on certain notes adds a bit of shadowing.
Pleased with the vocal tones we were hearing so far, we pulled out Erykah Badu's recording, Mama's Gun. We also wanted to hear the powered subs in action. The track was Penitentiary Philosophy. Here there are both lead and background vocals. We were really impressed with the depth of field and separation between voices. Badu's voice is nicely situated in the background as Stephen Marley sings his lamenting verse. As Badu's voice comes to the front you can hear all the little intricacies in her voice. Amazing! Then as their voices come together the speakers are right there with the recording: perfect balance while maintaining the purity of each voice's timbre. The bass was deep and powerful, and never got in the way of the midrange.