Although the initial entrance of HDMI into the CE market had problems, it's always had great potential.Unfortunately, potential-as my high school track coach often pointed out to me-can be the ugliest word in the English language.
Much of the initial hesitancy of using HDMI in installations was due to HDCP-compatibility issues between players and TVs. After you get your fingers burned a few times, you're leery about going back for more.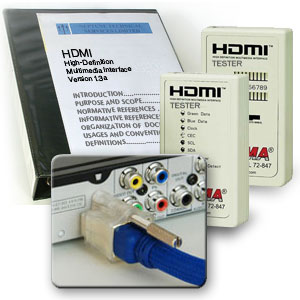 Fortunately, HDMI's reliability has gotten better with its iterations, and more integrators are using it. But it's still not 100 percent.
Here are three ways HDMI can be improved.
Stop Tinkering, Already!
First it was 1080p. Then it was Deep Color. Not to mention being able to pass lossless audio.
By any yardstick, the interoperability issues caused by spreading the rollout between HDMI v1 and v1.3a have been a monumental hassle for every one of us in the business.
Ironically, one of the arguments the HD-DVD lobby used against Blu-ray was that HD-DVD was a final version, whilst Blu-ray was still being tinkered with and new updates threatened the shelf-life of first generation Blu-ray players.
This is exactly the situation we've had with HDMI interfaces. The way that HDMI's feature set has rolled out in fits and starts has led to sundry issues in interoperability between sources and displays.
From the perspective of a consumer on the outside looking in, it's not unreasonable for them to have formed some suspicion that it's not over.
Look at it from their perspective: what if (the currently fictional) HDMI v1.3b or v2.0 comes along and makes their shiny new player or TV functionally obsolete?
In the early stages, the refrain from cautious integrators when they were avoiding using HDMI at all was "we're not there yet." Interoperability has gotten a lot better, but I think we'd all be happier if we knew that we were done.
Make Locking Nuts Mandatory
Some HDMI cables have locking machine screws on them located above the male cable ends and some don't.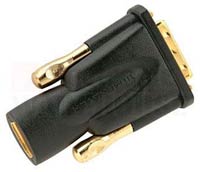 Some HDMI-equipped devices have matching nuts on them located above the female receptacles and some don't. Even better, locking HDMI cables don't always seat properly with devices that aren't lockable.
What better reason to stock two different varieties of cables in your inventory?
Given the relative frailty of the HDMI interface, I think it would be great if locking nuts were a mandatory part of the physical standard.
My friend Dave Long, the Dealer Manager for Toronto-based rep agency Evolution Audio/Video, recently told me a great story that underscores the perils installers face with fragile HDMI receptacles:
I've always found the connectors in equipment WAY too sensitive to force. Shove that wire in like you would an RCA or even DVI and you bust the connector from the board. Move it too much sideways and it doesn't take much-the same result. Attach the wire to your piece of equipment… push it back into a shelf with a back on it… push just a bit too hard and bingo… busted connector.

Recently, I've even had a connector crunch on me in a projector that was on a 7ft. high shelf. I carefully connected an HDMI cable. No sweat, it worked fine. I tied off the lines but not too taught since I'm aware of the stress level on HDMI connections, so all lines are tied straight down from the projector.

Then, at the eleventh hour, the unit needs to move a few inches, so I figure I had better disconnect the HDMI rather than stress it unduly. I go to remove it and it doesn't want to give.

I could untie all the lines and totally free up the HDMI cable, but it SHOULD still pull straight out, right?. So I tweak it just ever so slightly to one side then the other to loosen it a touch … and then I hear it.

Crunch.

Sure enough, I test it and it's shot. Had to use the number 2 input and get the connector fixed. I got it fixed the same day, but what a pain in the ass.Admittedly, Dave is a giant brute, but his cautionary tale should make all of us wary of putting too much strain on our HDMI connections.