Toshiba on Wednesday announced the launch of four lines of high-end LCD TVs; the ZH500, ZV500, RH500 and CV500, all under the company's REGZA line. The ZH500 and RH500 series come with a built-in 300GB hard drive for recording videos or TV programs, while all four offer a recording option to a Toshiba Qosmio media-oriented notebook via USB. Furthermore, the ZH500 and ZV500 TVs feature built-in LAN and DLNA network support, as well as Bluetooth connectivity to sync photos with cell phones.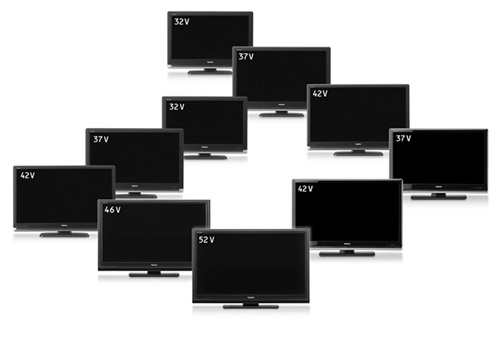 In addition to Toshiba's latest Full HD video processing hardware, all models feature automatic image quality adjustment software that takes into account the room brightness via sensors on the front panel and the type of media being viewed, among other factors. Toshiba's research found few of its customers bothered to optimize settings themselves.
The top-of-the-line ZH500 sets can be had in either 52-inch (52ZH500) or 46-inch (46ZH500) versions, and their hard drives are good for up to 29 hours of HD recordings. An SD card slot offers a quick way to transfer photos to the TV.
The ZV500 is offered with a 42-inch screen (42ZV500) or 37-inch display (37ZV500) and can record to a networked computer via its LAN connection.
The RH500 and CV500 series differ only by the lack of a HDD in the CV500. They are available in 42-inch (42RH500 / 42CV500), 37-inch (37RH500 / 37CV500) and 32-inch (32RH500 / 32CV500) sizes. All but the smallest offer full 1,920×1,080-pixel HD resolution, with the 32-inch versions coming it at 1,366×768, effectively 1080i.
Pricing is expected to range from an equivalent of around $1,500 to about $6,000 and the ZH500s ship early in May, with the ZV500s out in mid-June. The RH500, in 32- and 37-inch sizes, ship in early June, with the 42-inch TV out about a month later along with the 42-inch CV500. The 37-inch CV500 is due in mid-May, while the 32-inch version launches late in April, all in Toshiba's home market of Japan. Toshiba regularly sells its Regza line in the US, but it hasn't offered models with recording features in that country.
Source: Impress