Panasonic have recently come with an exceptional piece of news for all those in search for the newest and niftiest trends in multimedia: the SC-BT100 home theater system, a full and rich package boasting a Blu-ray drive and wireless, surround sound architecture and a heap of other great features to integrate your multimedia needs. And if you think that such a contraption will burn a hole into your budget, you'd better think again, as the Panasonic SC-BT100 is one truly affordable thing to go for.
If you're looking for a high-complexity multimedia system to offer you a great sound experience while at the same time bring the basic essentials of modern man, the Panasonic SC-BT100 might be one of the best choices available.
We're talking about a 5.1 home theater in a box, ready to play from the moment you've finished installing it: with the wireless speakers, installing has never been easier, especially as the SC-BT100 comes with dedicated signal transmitters, making connecting everything almost a child's play. And if you're demanding something extra, upgrading to 7.1 has never been easier, with optional side-speakers widely available.
The Panasonic SC-BT100 has been engineered as the perfect complement for the high-tech large flat screen TV you've always dreamed of buying one day. Hooking up a set-top box, gaming console or digital recorder is simple and quick, and you're most likely going to enjoy your fave movies and tracks in just moments. Even more, the Panasonic SC-BT100 comes with an SD memory card reader and iPod dock, just to make sure you can easily access all your fave content!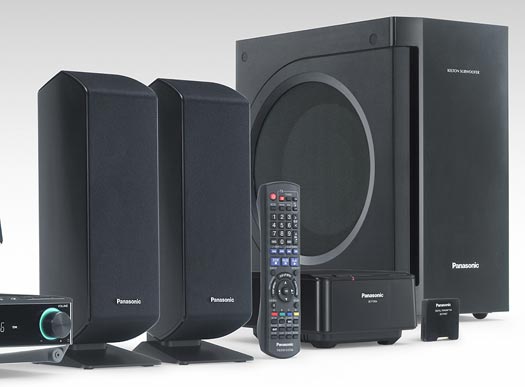 The Blu-ray Disc player offers you pristine 1080p HD image, while the additional audio mixing functions will also allow you to control the sound between the main and the sub windows. With Dolby Digital, Dolby Digital Plus, Dolby True HD, DTS-HD, DTS-HD High Resolution, DTS-HD Master Audio, and Linear PCM, the Panasonic SC-BT100 is more than ready to handle most of the high-def formats and standards you might throw at it, much to your total delight.
This home theater is supplied with a full-function remote control that will bring all the critical tweaks at your fingertips for the ultimate comfort. And just in case all these are not enough, the Panasonic SC-BT100 comes with a Kelton-design subwoofer loaded with an active driver and a passive radiator for enhanced LF response and minimal distortions and unwanted noise, while retaining a rich bottom-end in surround applications even at low volumes.
Selling for a nickel under the $1,000 mark, the Panasonic SC-BT100 looks like it's going to become a real hit. Available for purchase in late spring, according to Panasonic.