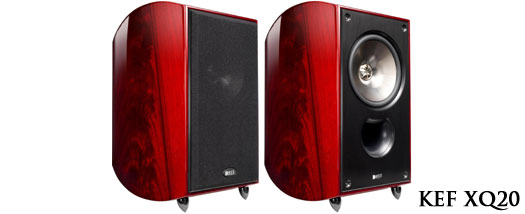 Founded back in the 1960s, KEF (Kent Engineering Foundries) has long operated at the leading edge of hi-fi loudspeaker design.

Even though the company has undergone numerous changes, its approach to design and technology has remained remarkably consistent throughout.
A good example of this impressive track record is the XQ20, a compact standmount which forms part of a new mid-price XQ range of speakers. There are five models in total – two standmounts, two floorstanders and a centre speaker.All are based around KEF's proprietary co-axial Uni-Q driver array and cunningly curved cabinetwork, beautifully lacquered in real wood veneer finish.
The variations depend upon enclosure volumes, driver diameters, and the addition of extra bass-only drivers in the floorstanders.
Inside KEF's latest speakers
This £1,000 per pair is the larger of the two standmounts. It's a two-way design based on the very latest version of a 165mm Uni-Q drive unit, loaded by a front port and an enclosure of approximately 16 litres (the curved tapering renders exactitude difficult here and KEF doesn't supply the relevant data).
This solitary drive unit has an interesting history. Taking advantage of the development of ultra-compact and powerful rare-earth magnets containing neodymium, iron and boron, the Uni-Q driver made its debut back in 1988.
It's a variation on the co-axial theme, placing a tiny tweeter on the end of the pole-piece in the centre of the bass/mid cone, so that it actually sits at the latter's effective acoustic centre, creating a 'coincident' variation on the co-axial theme.