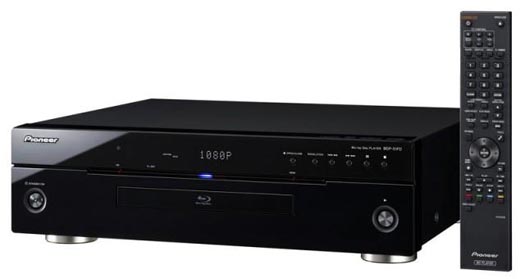 Pioneer has announced the Elite BDP-05FD and Pioneer BDP-51FD Blu-Ray Disc players and Elite SC-07, SC-05, VSX-03TXH and VSX-01TXH A/V receivers designed to give users that true theater experience in their own homes. The Elite BDP-05FD and Pioneer BDP-51FD BonusView Blu-ray Disc players support next generation high resolution audio and video formats, feature picture-in-picture interactivity and a redesigned platform. The new players work in tandem with Pioneer's KURO displays and new Elite A/V receivers.
The Elite BDP-05FD and Pioneer BDP-51FD of HDMI 1.3 use 12-bit video digital-to-analog converter (DAC) support and 1080p/True 24 frames per second (fps) video output, promising smooth performance of film based Blu-ray Disc movies that greatly image judder. The inclusion of the proprietary PureCinema Deinterlacer, which essentially eliminates lines that can negatively affect the viewing experience, enhances high performance DVD playback in the new players. DVDs can be scaled to a 1080p resolution for improved picture quality and compatibility with HDTVs. The players also feature Pioneer's Picture Control Suite, which is comprised of an additional 13 video adjustments that allow viewers to fine tune small picture details of a film and deliver an experience that best suits a user's viewing preferences.
The new players support all advanced audio formats, with the ability to decode Dolby TrueHD and Dolby Digital Plus, DTS HD and DTS HD Master high resolution audio formats making compatibility a minimal concern. Pioneer selected the professional quality Wolfson Digital Audio Converters (DACs) in the new players and gave the BDP-05FD and BDP-51FD a center loading tray to help reduce vibration, while dedicated audio and video boards are designed to ensure smooth operation and uninterrupted playback of discs. Gold-plated connection ports, capacitance touch key buttons and an aluminum front panel feature in the Elite BDP-05FD and Pioneer also claims to have made significant strides in speed performance, improving disc load, power on, power off and disc eject times that they claim now rival the rapid playback rate consumers have come to experience when using their DVD players.
When connected to the upcoming Elite SC-05 or SC-07 receivers via HDMI, the BDP-05FD enhances CD playback with the proprietary Precision Quartz Lock System (PQLS) – synchronizing music data coming from the Blu-ray Disc player to the receiver for a high resolution listening experience. The Elite SC-05 and SC-07 receivers are among four new A/V receivers introduced by Pioneer delivering high-definition (HD) audio designed specifically to complement their 2008 Blu-ray Disc Players and KURO Displays. The Elite SC-07, SC-05, VSX-03TXH and VSX-01TXH act as the HD control center, bringing HDMI 1.3a with full support of 12-Bit Deep Color. In addition, for analog video sources, Pioneer's Elite receivers are engineered for 1080p video processing with a Pioneer digital video converter and Faroudja video scaler chip that ensures up to full 1080p resolutions to best match the incoming video signal to the native resolution of a connected display.
Like Pioneer's flagship "Susano" A/V receiver, the SC-07 and SC-05 continue to incorporate the Direct Energy HD Amplifier with ICEpower analog class D amplification technology to provide the full impact of new uncompressed audio soundtracks now available on Blu-ray Discs. Users can take advantage of internal decoding of the new advanced lossless surround sound formats including DTS-HD Master Audio, DTS-HD High Resolution, Dolby TrueHD and Dolby Digital Plus.