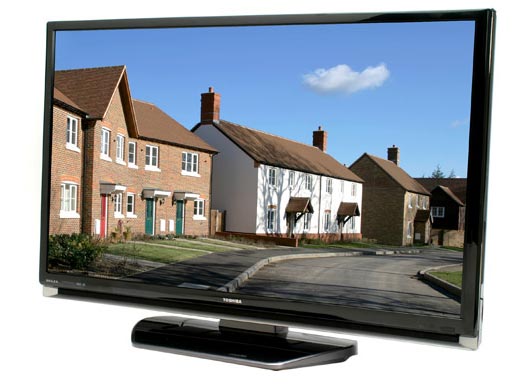 Last year saw the introduction of the XF range, which wrapped decent size panels in cases with unbelievably slim bezels. The result was a 40in LCD TV with a physical size that was considerably smaller than many rival 37in models. On paper this was great, but the reality left a lot to be desired. You see inconsistency wasn't the only problem with last year's range, Toshiba's sets also suffered from quite poor black level response. The disappointing black levels were something that I was willing to let slip slightly back in May 2007, when I reviewed the Regza 42X3030D, but by the end of last year Toshiba was still putting out sets with very disappointing black levels that simply couldn't compete with rival models – the Regza 40XF355D highlighted this problem when I reviewed it.
Another problem with the XF range was that it injected a degree of schizophrenia into the Toshiba range – while the XF looked like it was the flagship model, with its slim bezel and catwalk looks, it lacked the features of the Z series, which sported 100Hz processing and 5:5 pulldown for 1080p 24Hz playback. The result was that many consumers wanted the features of the Z series, but in the chassis of the XF series; an option that simply wasn't available to them. So, it was with some trepidation that I unboxed the new 40ZF355D, which is set to pick up where the 40XF355D left off. The good news is that before I'd even switched on the 40ZF355D, the specification sticker informed me that some of the problems with its predecessor had been addressed.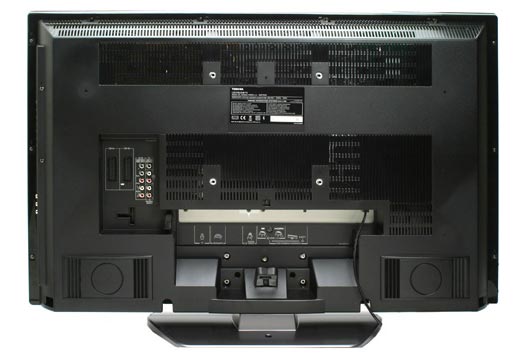 Let's start with the basics – the 40ZF355D is a great looking television, and I can tell just from looking at it that it's smaller than the 37in Panasonic plasma that I have at home. As with the 40XF355D before it, the 40ZF355D doesn't actually look like a 40in TV, despite the fact that it is. The super slim bezel actually makes it look like it's a 37in model, so if you're looking for a TV that's going to dominate your room and impress your mates, then this isn't the set for you. However, if you previously thought you could only squeeze a 37in screen into your living room, you'll be glad to hear that you can have a few more inches than you first thought. And let's face it, as the endless amount of spam email that hits my inbox keeps telling me, a few more inches can make all the difference!
As I hinted earlier, that case of schizophrenia that was haunting the upper echelons of Toshiba's range last year has been addressed with this TV. Not only does the 40ZF355D offer that super slim bezel that consumers crave, but Toshiba has also squeezed in all the features from last year's Z series – hence the ZF branding for this year. This means that you get Toshiba's ActiveVision M100HD 100Hz processing, along with the ability to accept a 1080p 24Hz source signal and display it using 5:5 pulldown, effectively delivering a 120Hz image using nothing but the original source frames. The last sentence gives away that this is a Full HD TV with a native resolution of 1,920 x 1,080, but then pretty much any LCD TV worth its salt has a Full HD panel these days. Full HD isn't the be all and end all of picture quality mind, especially on a 40in screen size, as anyone who has an HD Ready Pioneer Kuro will tell you, but it's never going to hurt to have it.