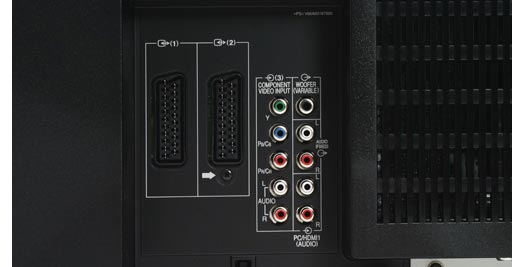 In its effort to combat plasma's major advantage, LCD TVs are hitting the market sporting more and more outlandish contrast ratios. For example, Toshiba is quoting a 30,000:1 dynamic contrast ratio for the 40ZF355D – the important thing to remember is that word 'dynamic'. This basically means that the contrast ratio is achieved by raising and lowering the intensity of the backlight, depending on the type of scene you're watching. In the most part this system works well, but if you happen to be watching a scene with bright and low light, one or the other is going to suffer – until we start to see LCD screens with local dimming backlights of course. The problem with dynamic backlighting is that if it's implemented in an over aggressive way, the change in intensity is discernible by the viewer, which can be very distracting.
Despite the constant fear of manufacturers using over aggressive dynamic backlighting to ensure headline grabbing contrast ratio figures, Toshiba has done a good job with this TV. I'm still not convinced that the quoted 30,000:1 dynamic contrast ratio is a true indication of the black level response offered by the Regza 40ZF355D, but I will concede that the black levels on this set herald a massive improvement over the previous model's. It's still a given that a decent plasma is going to reward you with far deeper blacks, and consequently more vibrant colours, but in the LCD world, the 40ZF355D isn't bad.
Despite the slim design, Toshiba has squeezed a fair bit of connectivity into the 40ZF355D. There's a total of three CEC compliant HDMI 1.3 ports, allowing for playback of Deep Colour high bit-depth material – there aren't any commercial Deep Colour discs yet, but camcorders are appearing that shoot using the standard. There's a component video input for analogue HD or progressive SD sources and a D-Sub input for hooking your PC up. If you're still keen on using interlaced SD sources, you've got two SCART sockets, S-Video and even composite, along with analogue audio inputs.
There's also an optical audio output for passing through your HDMI audio to an external amp or receiver, while a dedicated subwoofer output allows you to add some extra bass effects to the TV's sound without the need to invest in a whole external sound system. There's a headphone socket in case you're watching late at night and don't want to wake up the family, while the CI slot will allow you to add premium channels to the buit-in Freeview tuner.