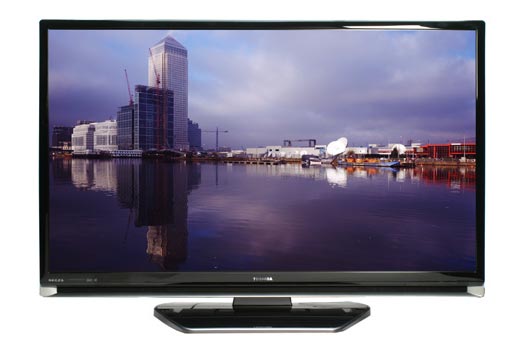 As I've already mentioned, the problem with the 40XF355D is that its picture quality simply couldn't live up to its aesthetics. Thankfully, Toshiba has addressed this issue, and the 40ZF355D marks a significant improvement over its predecessor. The improved black level response is apparent both in dark scenes and those with vibrant colours. Firing up Blood Diamond on Blu-ray, pumping out at 1080p 24Hz showed just how much better this TV is than the previous model. The night time scenes looked genuinely convincing, with blacks that look black, rather than the pale grey that the 40XF355D managed – this is aided by the fact that there's no discernable backlight bleed, leaving the bars accompanying any 2.35:1 movie dark enough not to distract the viewer. The daylight scenes in Blood Diamond were just as impressive, with a bright and vivid palette of colours painting the African jungle, giving it a real sense of life.
A more difficult test for any TV is the Blu-ray disc of The Crow. Not only is this one of the darkest and shadowy movies ever shot, but the MPEG 2 encode on Blu-ray is far from the best example of the format. Here the 40ZF355D took a bit of calibrating to get the best picture – there's a fine balance between bringing out all the detail in the scene and making the overall image grey rather than black. Once I'd spent a bit of time tweaking the 40ZF355D is gave a pretty good account of itself while Eric Draven dished out his revenge on the thugs who murdered his fiancé. Given, the two year old Panasonic plasma that I have at home still does a better job with this type of material, but that's to be expected, and by LCD standards this Toshiba can hold its head high.
Looking up an Xbox 360 and sliding Gears of War into the drive confirmed the 40ZF355D's improvement over its predecessor, striking a good balance of strong blacks without too much loss of detail in darker areas. Like watching The Crow, playing Gears of War is a tough test for any TV, with most of the game set in semi-darkness, but the 40ZF355D managed to maintain the tight, claustrophobic atmosphere thanks to very little greying over of the picture.
Toshiba Regza 40ZF355D Full Specification

Dimensions/Weight
Product Type – LCD
Diagonal size – 40 in.
Image aspect ratio – 16:9
Dimensions (WxHxD) – 934x632x302 mm
Weight – 34.3 kg
Power usage – 254 W
Video
Resolution – 1920 x 1080 pixels
HD formats – 720p, 1080i, 1080p
Image contrast ratio – 30,000:1
Screen brightness – 500 cd/m2
Horizontal viewing angle – 178 °
Vertical viewing angle – 178 °
Audio
Output mode – Stereo
Total output power – 20 W
Surround sound effects – SRS WOW; Stable Sound; Bass boost
Television Features
Colour temperature control – Yes
Additional features – 5:5 pulldown; 120Hz panel
Tuner
Integrated Freeview tuner – Yes
Connections
Composite – 1 (side)
S-Video – 1 (side)
RGB-Scart – 2 (rear)
Component – 1 (rear)
VGA – 1
HDMI – 2 (rear), 1 (side)
HDCP – Yes
Sky High Definition compatible – Yes
Remote Control – Infrared