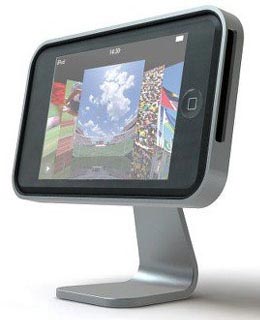 You want an Apple iMac, but don't have either the space or funds for one. What do you do? One Japanese manufacturer has designed a dock that gives the iPod Touch the appearance of a miniature iMac.The so-called iClooly is simply an aluminium stand that, unsurprisingly, measures just slightly larger than the Touch – allowing Apple's portable music device to slot horizontally inside. The stand doesn't boast as much processing power as the 3.06GHz iMac, but is much more portable because the dock weighs just 55g. It's even got a circular hole in the back, for cables.
The Touch dock can also rotate through 90°, enabling you to use the music and movie gadget in either a portrait or landscape orientation.
Presumably there are several advantages to slotting your Touch into an iMac-alike dock, although most probably centre on aesthetics. For example, it'll make the player look much sleeker when sat beside your MacBook Air.
UK specific pricing details or availability haven't been announced yet – the unit was released in Japan today – but more details are available online.