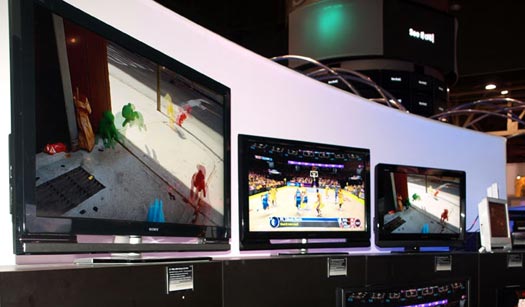 Sony has unveiled its top-end range of Bravia LCD TVs, some of which feature a panel backlit by three colour LEDs – instead of the normal white light – to improve the screens' colour quality.
The new XBR range is split into three series, the XBR8, XBR7 and XBR6. However, only the XBR8 family features "Triluminous" LED backlighting. According to Sony, this feature uses clusters of red, green and blue LEDs to backlight the screen.
Sony claimed the colour clusters have the advantage of "significantly elevating colour purity", when compared to a screen with the more commonplace single white LED backlight.
The XBR8 series features a 46in and a 55in model, each boasting 1080p 'full HD' resolution and a setting for dimming a screen's darkness within individual areas – essentially providing blacker blacks and whiter whites.
Both screens use 120Hz technology to stop images juddering and can connect up to four HD sources, thanks to the four built-in HDMI ports.
The XBR7 range holds both a 70in and 40in TV, whilst the XBR6 range offers a 37in, 40in, 46in or 52in option. Sadly, neither range sport the Triluminous feature. But each screen does have a 1080p resolution and a USB port.
All screen sizes will be available in the autumn, but prices haven't been put on display yet.