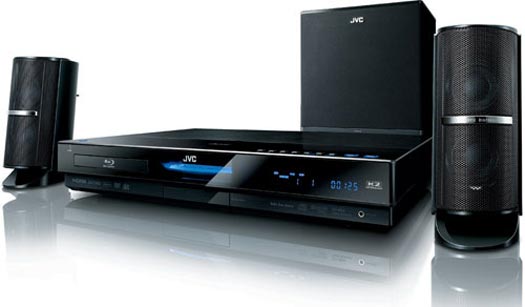 JVC's newest addition to its Sophisti line-up is the NX-BD3 Blu-ray home theater system, which is the company's first Blu-ray system and the first dedicated Blu-ray player in the industry to feature Digital Living Network Alliance (DLNA) compatibility via a wireless adapter update. Thanks to DLNA support, the 2.1-channel system will be able to work with other types of DLNA-certified devices such as cellphones, PCs and others to share digital content, including MPEG videos, JPEG photos and MP3/WMA music.
The NX-BD3's internal amplifier is rated at 4x55W, with the subwoofer delivering a further 200W of bass. The two speakers sport two drivers with different material thicknesses each, allowing them to create a virtual surround sound system with a phantom center channel and virtual rear speakers. Supported audio formats will include Dolby Digital, DTS and Dolby Pro-Logic II.
The Blu-ray player will be Profile 1.1 compliant, but will not be upgradeable profile 2.0. As it is, it will support 24fps video as well as xv.Color and Deep Color via its single HDMI 1.3a output. Other connections comprise an optical audio output, analog audio input, and HDMI-CEC input. DiVX files on CD, DVD or Blu-ray will be supported. An AM/FM tuner is also built-in.
Available in gloss black only, the unit will be priced at an equivalent of nearly $1,460 when it launches in the UK this September. [Source: CineNow]