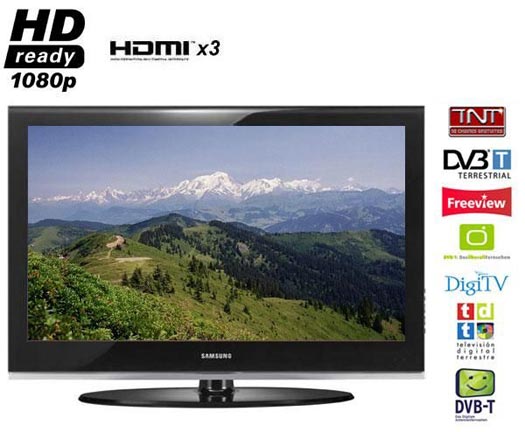 So successful has Samsung been with its media-friendly 'hint of red' A656 LCD range that it hasn't really seemed as particularly bothered about marketing its other LCD TVs. Certainly it's taken us an age to get our hands on something from the brand's '5 Series'.
But our perseverance has finally paid off, and we have a 32in LE32A558 sat on our test benches as we speak. And first impressions of this new set are, well, mixed.
The problem is that it's hard not to feel an immediate pang of disappointment at how relatively 'straightforward' the A558 looks versus the red-tinged glories of its A656 siblings. But to be fair, once you've got over this, you start to appreciate that the design is actually still very nice, partly thanks to the extreme minimalism of its gloss black lines, and partly due to the quality of its finish.
In terms of connections, the 32A558 is good, but again not quite as good as the A656 range. The key difference lies in the 32A558's provision of three v1.3 HDMIs versus the A656's four. Still, three will probably be more than enough to keep most TV viewers perfectly happy. Plus, of course, most 32in TVs from rival brands also currently favour three HDMIs over four.
It's nice to find that the 32A558 retains a 'wiselink' USB port for playback of JPEG photos and MP3 audio files, as well as a digital audio output and a dedicated PC jack, alongside all the typical TV basics.
Despite only costing £487, the 32A558 is, remarkably, a Full HD set, like its A656 brothers. We know there are a few cynics out there who don't reckon there's much point having a 1,920 x 1,080 pixel count in a TV as small as 32in. But we reckon there really can be visible differences in the way high quality Full HD 32in sets can present the UK's 1080-line HD sources, so we're always happy to see them. Provided, that is, they also do well at getting around the traditional Full HD weakness when it comes to showing standard definition.
The 32A558's other key specifications line up pretty well too, with a decently high claimed contrast ratio of 15,000:1 (the same as the A656 range) achieved via a dynamic backlight system, and picture processing on hand from the Samsung's Movie Plus and DNIe+ systems.