You can improve the motion situation by turning the Movie Plus feature up to its medium or high setting, and darken black levels with careful tweaking of the backlight, black boost and dynamic contrast settings. However, if you crank the Movie Plus feature above its 'Low' setting, sporadic glitches and twitches start to crop up in the image, especially during rapid camera pans. And focussing too much on black level depth can significantly reduce the amount of visible shadow detail in a dark scene.
Colours on the 32A656 also need a bit of TLC before you get the best out of them. With any of the factory presets there seemed to be a tendency to exaggerate rich colour elements like green grass and blue skies at the expense of truly believable tones for subtler image elements, such as skin. Using the features in the TV's menus can thankfully partly correct this situation, achieving a more even-handed and natural colour finish – albeit at the expense of some colour vibrancy.
The set's standard definition is fair to middling by Full HD TV standards. Things look rather noisy using the same picture settings that favour HD material, but careful manipulation of the noise reduction and backlight settings improves things to the point where standard def becomes at least passably enjoyable.
You'll probably be starting to understand by now where I was coming from when I suggested earlier that you might well find yourself spending quite a bit of time in the TV's menus, tweaking various settings. I should add here that you need to be careful with the noise reduction and edge enhancement options too, as the former can make pictures soft while the latter can make edges look stressed.
Of course, we don't mind a bit of regular feature tweaking provided the results are worth our time. But with this in mind, we're bound to say that while time spent in the 32A558's menus is rewarding, it's not as rewarding as such tinkering on, say, Philips' PFL9603 or PFL9703 sets.
The LE32A558's sound is underwhelming. As usual with Samsung TVs, the speakers have been made 'invisible' to preserve the purity of the set's design, and this seems to prevent the soundstage being driven out of the set with as much force, clarity and bass as we'd like. We're not suggesting here that the whole idea of 'invisible' speakers is flawed; JVC and Philips have both proved that it really is possible to get power and range aplenty out of a hidden speaker design. It's just that Samsung isn't getting quite as much out of its system as we'd like.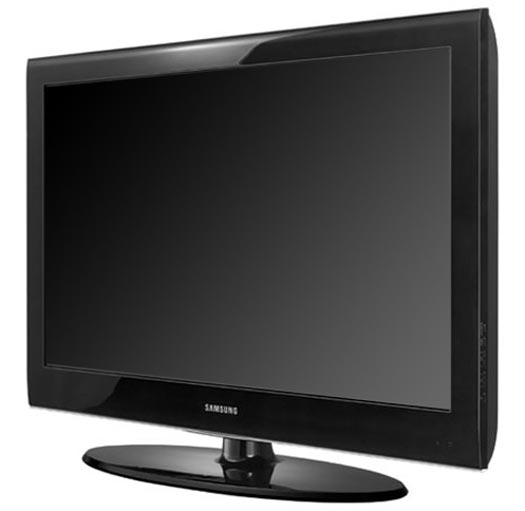 Verdict
The LE32A558 is a cute, well-specified TV and a likeable performer once you've put in some time sorting out its picture settings. Its strikingly low price also hugely enhances its appeal. But with the prettier, better-connected Samsung LE32A656 only costing a little more these days, and other TVs setting new standards in terms of picture performance, it ultimately only finds a place in our good pile, not our great pile.
Specifications
Brightness in Candela/m²: 500, 550
Contrast Ratio (X:1): 15000
DVB-C: No
DVB-S: No
DVB-T: with Digital Tuner
DVD Player / Recorder: No
DVI Interface: No
Electronic Program Guide (EPG): Yes
Energy Savings Trust Feature: No
Frequency: 50 Hertz
Full HD: with Full HD (1080p)
Hard Disk Capacity in GB: -2 GB
HD ready: HD Ready
HDMI Interface: with HDMI
Horizontal Resolution in Pixel: 1920
Loudspeakers: with Loudspeakers
Memory Stick: No
Number of HDMI Inputs: 3
Number of Scart Interfaces: 2
PC Interface: Yes
Power Consumption in Watts: 180
Power Consumption Standby in Watts: 0.9
Reflection Angle: 178 degree(s)
Response Time in ms: 5, 6
Screen Format: 16:9
Screen Size in cm: 81, 80 cm
Screen Size in Inches: 32 in
Secure Digital Card: No
Type of Monitor: LCD
USB: No
Vertical Resolution in Pixel: 1080