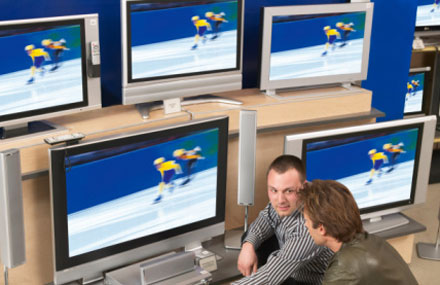 Just last week, Reuters in Japan confirmed that Sony is to take a one-third stake in Sharp's $3.5 billion LCD panel plant, which is set for completion by March 2010.
Before, that we reported that Pioneer has opted to stop making 42-inch LCD screens was to buy them instead from Panasonic maker Matsushita Electric Industrial or Hitachi.
This week, we have news of another alliance.
Samsung is currently finalising talks with Sony to jointly build a new LCD production line, a Samsung source told Reuters.
Sony may also cooperate on another, bigger line for liquid crystal display (LCD) panels used in flatscreen TVs, according to the source, who wanted to remain anonymous.
They would not say who would be the partner in this venture.

There had been concerns that Sony's recently announced deal with Sharp could throw its long-running S-LCD joint venture with Samsung into jeopardy, but both sides have refuted this.
The new Samsung/Sony plant will be located at S-LCD's LCD production complex south of Seoul, but neither party will reveal how much they are to invest.
Samsung and Sony spent a combined 1.8 trillion won ($1.9 billion) in creating the initial factory line.
And, further consolidation was result from a new deal between Canon and Hitachi – which seems to be in a rival group from Sony, Samsung and Sharp.
Canon is to pay $403 million for a quarter stake in Hitachi Ltd's LCD panel business to get its own supply of parts for its cameras and copiers.
Canon and Matsushita Electric Industrial agreed in December to buy 24.9% each of the LCD panel maker, Hitachi Displays, which is now wholly owned by Hitachi.
According to Reuters, Canon wants to eventually buy Hitachi Displays stakes from Matsushita, the maker of Panasonic products, and Hitachi Ltd to make it a subsidiary.