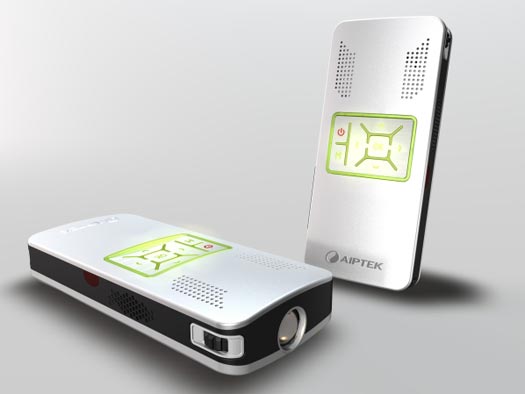 Have you ever missed your TV while going to a distant place with not many up-to-date electronics around? Or have you missed a home theater if you have one of course? Probably yes, and if so, you should know that now there is a new cool gadget that can help you. It is Aiptek Pocket Cinema that can bring a pleasant cinema atmosphere anywhere. However that may be, Pocket Cinema gadget is not a naturally born tourist – it is a delicate device. Delicate and small enough to fit in your pocket just like an average mobile phone. In spite of its small dimensions, it allows to display images or movies on a wall or screen or any other clear surface in fact. In work Aiptek Pocket Cinema is specified to show a 50 inch picture with not even slight distortion or bloom effect.
Aiptek Pocket Cinema can be a really good entertaining gadget if you follow the entire manual guide notifications. Thing is that Aiptek has designed a very interesting, useful and stylish device, but unfortunately it is user unfriendly in a range of aspects. Let's start with the image quality. It is an Aiptek Pocket Cinema's weak spot. It will make a nice clear and bright image on a prepared surface. 50 inches (approximately 120 centimeters) in diagonal are not bad, and the VGA resolution is suitable enough – 640 x 480 pixels. This is a maximum size for 6 feet (180 centimeters) distance between the projector and the image. The minimum size is 6 inches (15 centimeters) in only 8 inches (20 centimeters) of distance. A proper adjustment is done easily with the help of a tripod in the kit.
The list of formats that Aiptek Pocket Cinema is able to playback wouldn't allow a good half of buyers to use it as freely as a PC. It reads MPEG4, ASF or AVI audio / video formats and only JPEG for images. Me myself, I think it should read FLAC or APE also.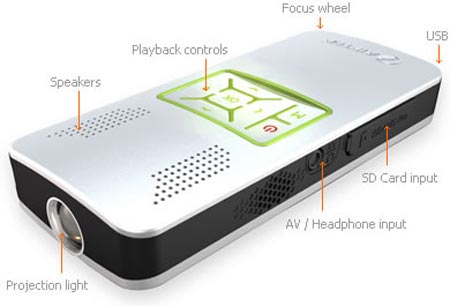 In order to synchronize Pocket Cinema with computer you need: Windows Vista / XP / 2000 operating system and to have at least 800 Hz processor, 256 Mb RAM. Once you have loaded its 1 GB internal memory (pretty poor rate, but the problem can be solved with an SD or flash drive), operate it with a remote control. You can also plug Aiptek into a DVD player for a movie that is bigger than 1 GB, but iPod or iPhone synchronization is not available.
For a small portable gadget as the Aiptek Pocket Cinema is, the battery life is very important. Small dimensions didn't allow designers to build in an appropriate memory card, and the battery seems to be tiny to. It can only last 1 hour on the full charge which is a bigger half of an average movie, but not the whole one! Make sure you can charge the portable projector with a USB hub or an AC adapter if you are not going to watch cartoons before bedtime.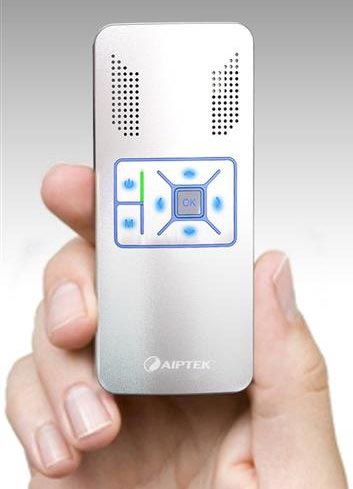 Well, even though Aiptek Pocket Cinema doesn't seem to be a bestseller with a 520 USD sticker, but it can still be a helper in the office routine or at home. One of the best things I liked about it is not portability or something like that, but an instant romantic atmosphere. Think about it if you want to make a good impression on someone.