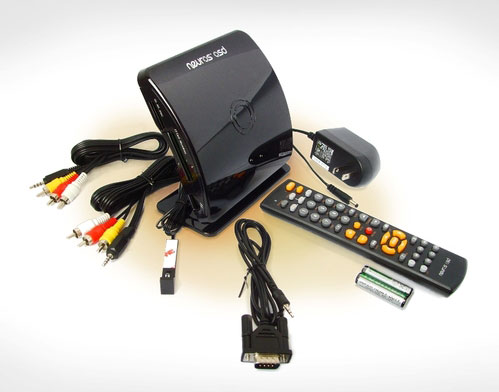 The basic premise of the Neuros OSD is that you connect almost any video source through the OSD to your TV to view the media whilst recording onto a range of different formats. The OSD device develops on the MPEG-4 Recorder we reviewed back in 2005.
The OSD contains a number of ports for most common memory cards, as well as USB, either for direct connection to a portable device, such as an iPod, or to a USB drive.
Using the supplied composite cable and Scart adapter you can connect to most video sources; we used a DVD player and VHS player. The OSD allows the devices to play-through, i.e., you watch them through the OSD "channel" that your TV is tuned into, most likely one of the AV channels.
Operation is controlled through the supplied remote control in combination with the on-screen menu system. The on-screen menu is basic and fairly clunky but is navigatable after a fashion; certainly it takes the shine off the package. The remote unfortunately has a limited viewing angle, so it is a struggle to get the OSD to respond at times, which can be frustrating.