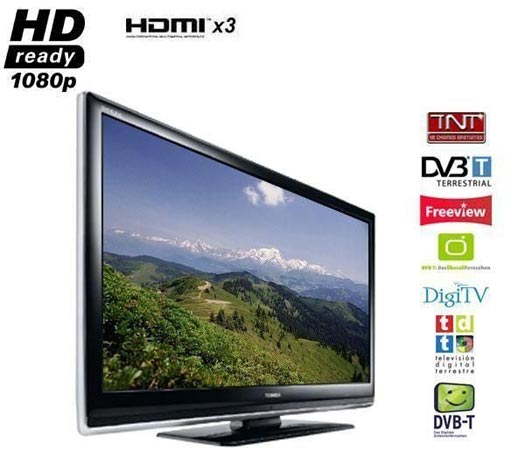 A little while back we looked at and were impressed by Toshiba's HD Ready 32CV505DB, finding it a mighty fine 32in budget TV. So now we're more than a little intrigued to find on our test benches the 32XV505DB: another Toshiba 32in LCD TV which brings a Full HD resolution to the table while adding less than £100 to the price.Aesthetically the 32XV505DB – part of Toshiba's strangely-named Regza TV range – looks identical to the 32CV505DB, so far as I can tell. Which is no bad thing, as the combination of a slender gloss-black bezel, silver outer trim, and thin 'speaker strip' jutting out along the bottom make it one of the better looking small LCD TVs in town.
Connectivity is good for the money, too, particularly thanks to the inclusion of three v1.3 HDMI inputs, a component video input, a D-Sub PC port, an optical audio output, and even a subwoofer line-out should you feel inclined to add a powered bass speaker to your setup.
As we made clear at the start of this review, the absolute key specification in the 32XV505DB's make-up is its 1,920 x 1,080 resolution – in fact, it's Toshiba's first ever Full HD 32in TV. This resolution is joined, as with any Full HD TV worthy of the name these days, by a pixel-by-pixel mode for showing the UK's 1080-line HD sources without any image scaling involved to mess things up.
Another very impressive number up the 32XV505DB's sleeve is its claimed contrast ratio of 30,000:1. Achieved with the help of a dynamic contrast arrangement, this figure is easily one of the highest we've yet seen attached to a 32in TV. Fingers crossed it turns out to be more than just Toshiba playing 'the specification numbers game'.
As with the 32CV505DB, the 32XV505DB's pictures are driven by the latest generation of Toshiba's Active Vision LCD image processing. This is designed to improve detail, colour tones, and contrast while reducing noise levels, and has delivered some decent results in the past. Though in curiously inconsistent fashion, it's delivered some slightly disappointing results as well! Let's hope we don't find ourselves in the 'disappointing' camp today.
Calling up the TV's onscreen menus – which prove a bit small for comfortable reading – uncovers another selection of noteworthy features. For instance, there's a colour management tool; an auto contrast facility that can adjust the picture based on an assessment of light levels in your room; the option to deactivate the dynamic contrast system if you find it making black levels look unstable; plus both MPEG and standard noise reduction routines.