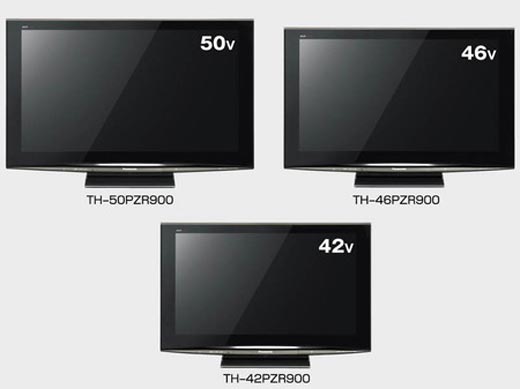 Panasonic announces three new plasma televisions which will grace its PZR900 lineup of Plasma TVs. Available in 42, 46 and 50 inches, these stunning beauties feature magnificent 1 Terabyte hard drive.
The Panasonic PZR900 plasma televisions equip a full HD (1920 x 1080) panel, digital TV tuner and can be used with Viera link doorphones and surveillance cameras.
General specs:
* 1920 x 1080 HD res
* 30,000:1 contrast ratio
* YouTube compatibility
* 3 HDMI inputs
* Optical digital output
The TV's also comes with a one Terabyte hard drive that allows up to 121 hours of video recording but it depends on the quality you set. They also feature Panasonic's Viera link, HDMI inputs, and Card reader.
The Panasonic PZR900 TVs will be available in Japan and the 42-inch, 46-inch and 50 inch plasma TVs are priced at 420,000 Yen ($ 4200), 480,000 Yen ($ 4800) and 540,000 Yen ($ 5400) respectively.