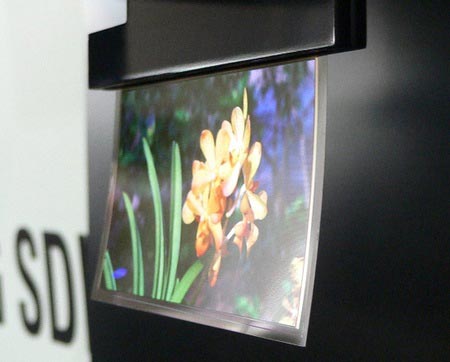 Samsung SDI shows an ultra-thin OLED panel at the FPD International 2008 conference.
Samsung calls it the flapping display. I guess they just want to underline the fact that it is so thin that it moves with the wind.
The 0.05mm-thick screen sheet has a diagonal size of four inches, a resolution of 480 x 272 and a 100,000:1 contrast ratio. Its brightness is rated at 200cd/m², Japan's Nikkei reports.
That width is a fraction of the 0.3mm thickness Sony recently hailed for its first flexible OLED panel.
What it lacks is the glass substrate all other OLED panels use for stability. Instead of sealing the panel to the glass, Samsung removed it and used a membrane seal instead.
What Samsung didn't say is how easily its boffins can transform the process used to produce the prototype into one that can be implemented commercially.