Firebox has launched a portable digital TV with a 4.3-inch WQVGA LCD screen that has a built-in DVB-T receiver for Freeview channel pick-up.
As well as offering TV-tuning abilities, the device is an MP4 video player, audio player and picture viewer and has built-in FM radio too.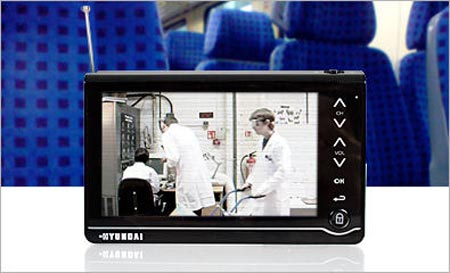 File support covers MP3, WMA, OGG, WAV Audio, AVI, WMV9 Video and JPG, BMP, PNG image support.
Measuring 12.7 x 7.8 x 1.2cm, the player has touch sensitive buttons and the rechargeable battery provides 3.5 hours viewing time in TV mode, 7.5 hours in video mode with 42.5 hours promised for MP3 playback.
On the downside, the audio output is only through the headphone socket, so it's a going solo option only, there's only 1GB of internal memory (content can be transferred via SD cards up to 2GB only or USB) and it's Windows-only if you want to connect it to your PC.
Complete with leads, earphones and a carry case, the portable digital TV is available now from Firebox for 210 USD.