Nordost's flagship Valhalla cable range is stunning, but unconscionably expensive. Heimdall, a new range of loudspeaker cables and interconnects (named after the Norse god of light) mirrors the key technologies of Valhalla, but at a much more affordable price level. ('Affordable' is a relative term here, of course…)Like Valhalla, the Heimdall speaker cable is a completely flat, wide cable that can be laid under carpets, though it is a good deal more tractable. It uses the same micro-monofilament construction, in which a number of silver plated copper conductors laid side by side are individually wound with spirals of PTFE insulation before being covered by an extruded jacket of FEP, a form of PTFE. The interconnects are similar, but round in section. Where they differ is that Heimdall uses fewer conductors -24 instead of 40 for the speaker cable and four instead of eight for the interconnect – and the conductors have a thinner silver coating.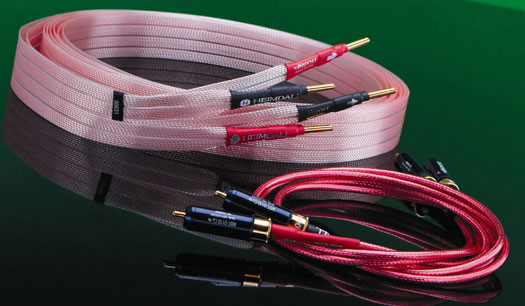 As before, about 80 per cent of the surface area of the conductor is covered only by air, and again Heimdall makes the familiar claim of being very fast, conducting electrical signals at 90 per cent of the speed of light in vacuo (against Valhalla's 96 per cent claim) for the speaker cable, and 80 per cent for the Heimdall interconnect (against Valhalla's 87 per cent). Capacitance and inductance are also very low, though again not quite in Valhalla class.
Sound Quality
During the review period, we compared Heimdall directly to its counterparts in the Valhalla range. The two cable families are clearly remarkably alike in their fundamentals. Valhalla is tight and dry but with incredible definition and transient impact, which really pays off with complex acoustic material. Heimdall has the same properties; in fact, it's surprisingly difficult to tell the two apart for much of the time. But in a first-rate system the differences are audible. Heimdall doesn't have the authority, and ultimately is less detailed.
It is no poor relation, however. Heimdall in interconnect and speaker forms has the same freshness, the same taut, impactful bass and the same lack of colouration as Valhalla, and it is transparent enough to leave most cables sounding vaguely coloured. Nothing that is easy to put a finger on unless they are compared side by side, but under such conditions, differences are obvious enough. Another common factor with the more costly cable is that contrary to popular preconceptions, it is a very stable performer and works consistently well with a wide range of hardware. The only important difference is that with low-resolution electronics, Heimdall doesn't have the same opportunity to shine.
Heimdall in interconnect or speaker form is a very high performance cable, probably as close to Valhalla as you can reasonably expect, and for a great deal less money. It has the familiar micro-monofilament properties of superb definition, lack of obvious colour and transparency. It's still priced at the elite end of the market, but is highly recommended.
Source: Nordost