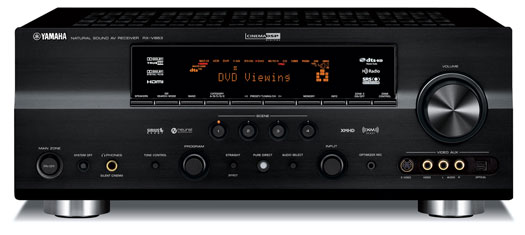 The Yamaha RX-V863 is the top of the new line offering from Yamaha. At a paltry $999, I was surprised that Yamaha didn't have an offering at a higher price point. Frankly, $1k isn't that much for a higher end receiver and competitors usually have one or two at higher price points. This made me wonder if the RX-V863 had skimped on features. Fortunately I was mistaken.
The RX-V863 supports native decoding of all the latest audio formats with 3 in/1 out HDMI 1.3 ports. On top of that it also supports Deep Color (up to 36 bit), 120Hz refresh rates, and 1080p/24Hz transmission. Essentially, all the latest goodies. Two of the seven 105 watt amplifiers are assignable for bi-amp or Zone 2 configuration and it has plenty of connections for all your AV gear (including 3 in/1 out component video). 192kHz/24-bit Burr-Brown DACs and ADCs ensure that quality will be top notch when the audio is encoded and/or decoded for final consumption.

Want to take advantage of that single cable to your display but don't feel like upgrading all your source components? No problem, the Yamaha RX-V863 performs analogue video (480i or 480p) upscaling to 1080p. 7.1 channel analogue inputs will keep you future-proof in case Toshiba decides to make another run at high definition DVD using crystals or something. Of course, 7.1 analogue preamp outputs are available for integration with external amps.
As to be expected with Yamaha, extras abound with no less than 17 DSP surround modes. On top of that, we have more useful extras like iPod and Bluetooth compatibility (both require peripherals), an HD radio tuner, and the receiver is XM and Sirius Satellite-ready. But probably the coolest extra is the "extra" subwoofer output. This is a feature that makes our little audioholic hearts jump for joy. While Joe Consumer may not understand why he needs two subs, he understands that he's got two ports so he obviously need two, right? The only downside is that these dual subwoofer outputs can only be used in zone one and not split between the primary Zone and the secondary. Yamaha's YPAO is back again, ensuring that setup will be a breeze and you can use the integrated automatic parametric EQ to tweak your room (or even configure it manually if you so desire). The remote is roughly the same remote we've seen for the past few years in this line and offers nothing new or impressive, though it is certainly functional. The keys do seem to be better backlit than in prior iterations and for that we are thankful.