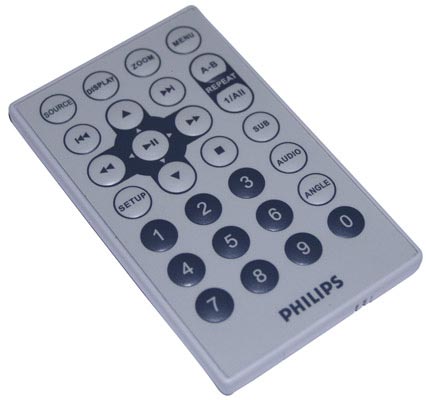 The remote control is a slim yet incredibly ugly affair. Navigating the rather amateur-looking on-screen menu is painless, though, if only because there are so few options to play around with.
With a rattle and a clunk, the entire front of the player slides up to reveal the optical drive – or at least half of it. It might look impressive, but this design does create problems. First and foremost, sitting on the outside of the player, the display is extremely susceptible to damage, especially since it doesn't feature a protective layer – we were also a bit miffed not to find a carry-case in the box.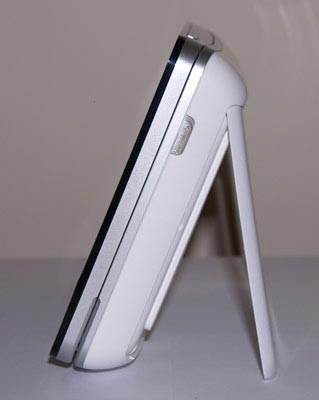 And, unlike clamshell players, it relies on a pull-out stand at the rear to stay upright when in use. Feeling worryingly flimsy, the slightest knock sends the player crashing down with a thump. The screen can only be sat at one angle – with clamshell players you can tilt the screen to the angle that best suits you.
The PET723 is no slouch, though, and gets a DVD up and running from cold in 18s, though fighting with the stubbornly stiff power switch can add to this. Skipping scenes is a similarly speedy process, taking just under 1s, and both fast forward and rewind speeds are available from x2 up to x32.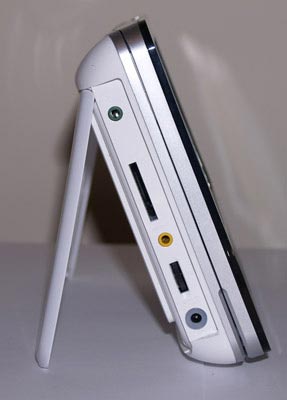 Something that immediately struck us was the racket created by the drive. Crank the speakers up to a decent volume and the drive-noise will be drowned out, but the constant whirring will ruin a film's quieter moments or, if you're listening via headphones, irritate the heck out of anyone sat next to you.
Along with DVDs, the PET723 can handle MPEG 4 video and is DivX certified. Content can be loaded either from the SD card slot – SDHC cards are supported – or from CD-R/RW or DVD±R/RW discs. Photos will only be displayed if they're in JPEG format and, should you feel the urge to use the PET723 as an oversized music player, MP3 tracks encoded at up to 320Kb/s are accepted. All other audio formats are ignored.
It's also worth mentioning that the multi-region hack for the older Philips PET716, which is still readily available online, works just the same with this model.